Penggunaan Pemasaran Digital (Digital Marketing) Sebagai Pendukung Pengembangan Usaha Pada Kelompok Pengrajin Anoa Art
Keywords:
Pemasaran digital;, ekonomi kreatif;, limbah kayu
Abstract
The purpose of this PKM is to overcome the problems of partners by implementing digital marketing and fostering innovation in economic value products so that their craft products can reach a broad target market. Through a participatory approach, the implementation of activities in the group of craftsmen together collaborate to find solutions using digital marketing methods of craft products. Collaboration uses multi-stakeholder campuses, partner groups, professionals, and the government in formulating and finding solutions to the problems of craftsmen groups in the village of Pangan Jaya. As a result, using online marketing through the website, whatsapp messaging applications, facebook and Instagram products sold significantly increased and marketing of craft products has reached a wider market.
Downloads
Download data is not yet available.
References
Afrilia, A. M. (2018). Digital Marketing Sebagai Strategi Komunikasi Pemasaran "Waroenk Ora Umum" Dalam Meningkatkan Jumlah Konsumen. Jurnal Riset Komunikasi, 1(1), 147–157. https://doi.org/10.24329/jurkom.v1i1.21
Badan Ekonomi Kreatif, B. P. S. (2017). Data Statistik dan Hasil Survei Ekonomi Kreatif. Jakarta.
Gielens, K., & Steenkamp, J. B. E. M. (2019). Branding in the era of digital (dis)intermediation. International Journal of Research in Marketing, 36(3), 367–384. https://doi.org/10.1016/j.ijresmar.2019.01.005
Marjani, M., Anam, S., Asis, P. H., Ma'ruf, A. A., & Tangkesi, Y. (2018). Kajian pengembangan klaster ekonomi kreatif masyarakat berbasis kearifan lokal untuk penguatan inovasi perdesaan di Sulawesi Tenggara. Badan Penelitian dan Pengembangan Provinsi Sulawesi Tenggara (Vol. ). Kendari. https://doi.org/10.1017/CBO9781107415324.004
Niewöhner, N., Asmar, L., Wortmann, F., Röltgen, D., Kühn, A., & Dumitrescu, R. (2019). Design fields of agile innovation management in small and medium sized enterprises. Procedia CIRP, 84, 826–831. https://doi.org/10.1016/j.procir.2019.04.295
O.Nyumba, T., Wilson, K., Derrick, C. J., & Mukherjee, N. (2018). The use of focus group discussion methodology: Insights from two decades of application in conservation. Methods in Ecology and Evolution, 9(1), 20–32. https://doi.org/10.1111/2041-210X.12860
Piñeiro-Otero, T., & Martínez-Rolán, X. (2016). Understanding Digital Marketing—Basics and Actions. https://doi.org/10.1007/978-3-319-28281-7_2
Pradiani, T. (2018). Pengaruh Sistem Pemasaran Digital Marketing Terhadap Peningkatan Volume Penjualan Hasil Industri Rumahan. Jurnal Ilmiah Bisnis Dan Ekonomi Asia, 11(2), 46–53. https://doi.org/10.32812/jibeka.v11i2.45
Purwana, D., Rahmi, R., & Aditya, S. (2017). Pemanfaatan Digital Marketing Bagi Usaha Mikro, Kecil, Dan Menengah (UMKM) Di Kelurahan Malaka Sari, Duren Sawit. Jurnal Pemberdayaan Masyarakat Madani (JPMM), 1(1), 1–17. https://doi.org/10.21009/jpmm.001.1.01
Simatupang, T. M., & Widjaja, F. B. (2012). Benchmarking of Innovation Capability in the Digital Industry. Procedia - Social and Behavioral Sciences, 65(ICIBSoS), 948–954. https://doi.org/10.1016/j.sbspro.2012.11.225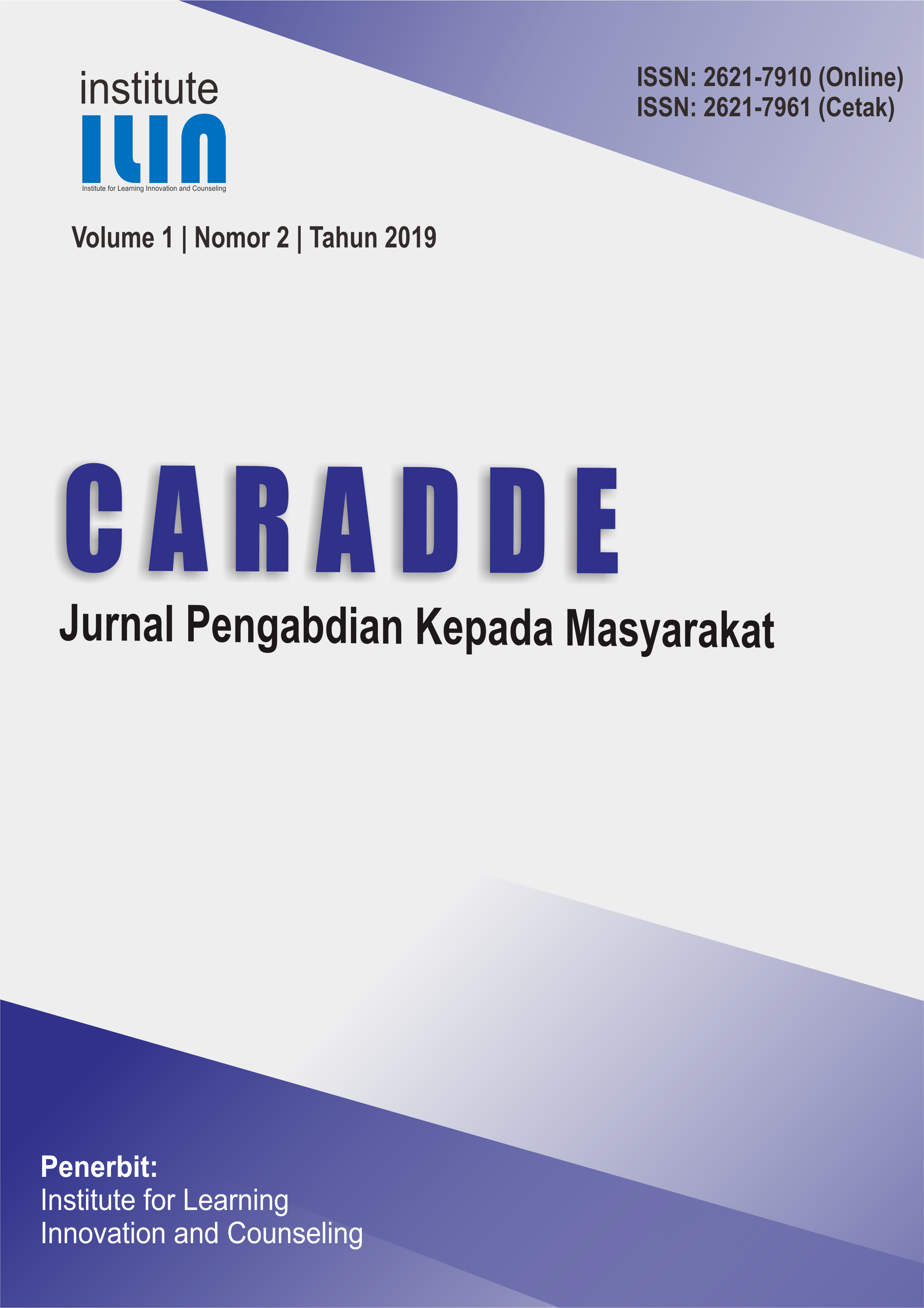 How to Cite
Asis, P. H., Marjani, M., & Ma'ruf, A. A. (2020). Penggunaan Pemasaran Digital (Digital Marketing) Sebagai Pendukung Pengembangan Usaha Pada Kelompok Pengrajin Anoa Art. CARADDE: Jurnal Pengabdian Kepada Masyarakat, 2(2), 345-352. https://doi.org/10.31960/caradde.v2i2.344
Penulis yang menerbitkan jurnal ini menyetujui persyaratan berikut:
Penulis memiliki hak cipta dan memberikan hak jurnal untuk publikasi pertama dengan karya yang dilisensikan secara bersamaan di bawah Lisensi Creative Commons Attribution CC BY yang memungkinkan orang lain untuk berbagi karya dengan pengakuan kepenulisan karya dan publikasi awal dalam jurnal ini.
Penulis dapat membuat perjanjian kontrak tambahan yang terpisah untuk distribusi non-eksklusif dari versi jurnal yang diterbitkan dari karya tersebut (misalnya, mempostingnya ke repositori institusional atau menerbitkannya dalam sebuah buku), dengan pengakuan atas publikasi awalnya di
jurnal ini.
Penulis diizinkan dan didorong untuk memposting pekerjaan mereka secara online (mis., Dalam repositori institusional atau di situs web mereka) sebelum dan selama proses pengiriman, karena dapat menyebabkan pertukaran yang produktif, serta kutipan yang lebih awal dan lebih besar dari karya yang diterbitkan