Pendampingan Pemanfaatan Duolingo melalui Smartphone Sebagai Alat Pengajaran dan Pembelajaran Bahasa Inggris Bagi Masyarakat
Raden Agus Budiharto

Universitas Madura

Abdul Wahab Syahroni

Universitas Madura
Keywords:
Smartphone; Kemajuan Teknologi; Aplikasi Duolingo
Abstract
The community service activity is aimed at providing a great command of Duolingo application for English teacher and MA Miftahul Ulum Pagendingan students where the application can be utilized as an interesting English teaching and learning tool. The method employed in this activity is training and mentoring regarding the utilization of Duolingo application through Smartphone. The activity of the service is desperately provide pedagogical commands for all participants how to teach or learn English in an interesting way that is by using Duolingo application. The participants consider that educational Duolingo application is extremely beneficial when to be utilized in English teaching and learning process in classroom. 
References
Ahmadi, M. R. (2018). The Use of Technology in English Language Learning: A Literature Review. International Journal of Research in English Education, 3(2), 115-125.
Anshari, M., Almunawar, M.N., Shahrill, M., Wicaksono, D.K., Huda, M. (2017). Smartphones usage in the classrooms: Learning aid or interference?. Education and Information Technologies, 22(6), 3063-3079
Babanoğlu, M. P & Reyhan, A. (2015). Explicit and Implicit Types of Corrective Feedback in Turkish Primary Education. International Journal of Languages' Education and Teaching, 3(2), 126-132.
Eggen, P & Kauchak, D. (2012). Strategies and Models for Teachers: Teaching Content and Thinking Skills (6th ed.) Boston: Pearson.
El Hariry, N. A. (2015). Mobile Phones as Useful Language Learning Tools. European Scientific Journal, 11(16), 298-317.
Gilakjani, A. P. (2017). A Review of the Literature on the Integration of Technology into the Learning and Teaching of English Language Skills. International Journal of English Linguistics, 7(5), 95-106.
Goundar, S. (2011). What is the Potential Impact of Using Mobile Devices in Education?. Proceedings of SIG GlobDev Fourth Annual Workshop 3.
Kim, H & Kwon, Y. (2012). Exploring Smartphone Applications for Effective Mobile - Assisted Language Learning. Multimedia - Assisted Language Learning, 15(1), 31 - 57.
Larsen-Freeman, D & Anderson, M. (2011). Techniques and Principles in Language Teaching (3rd ed.). Oxford: Oxford University Press.
McNeal, T & Van't Hooft, M. (2006). Anywhere, Anytime: Using Mobile Phones for Learning. Journal of the Research Center for Educational Technology, 2(2), 24-31.
Nalliveettil, G. M & Alenazi, T. H. K. (2016). The Impact of Mobile Phones on English Language Learning: Perceptions of EFL Undergraduates. Journal of Language Teaching and Research, 7(2), 264-272.
Shyamlee, S. D. & Phil, M. (2012). Use of Technology in English Language Teaching and Learning. Journal of International Conference on Language, Medias and Culture, 33, 150-156.
Tindell, D. R., & Bohlander, R. W. (2012). The Use and Abuse of Cell Phones and Text Messaging in the Classroom: A Survey of College Students. College Teaching, 60(1).
Williams, D., Coles, L., Wilson, K., Richardson, A & Tuson, J. (2000). Teachers and ICT: Current Use and Future Needs. British Journal of Educational Technology, 31(4), 307-320.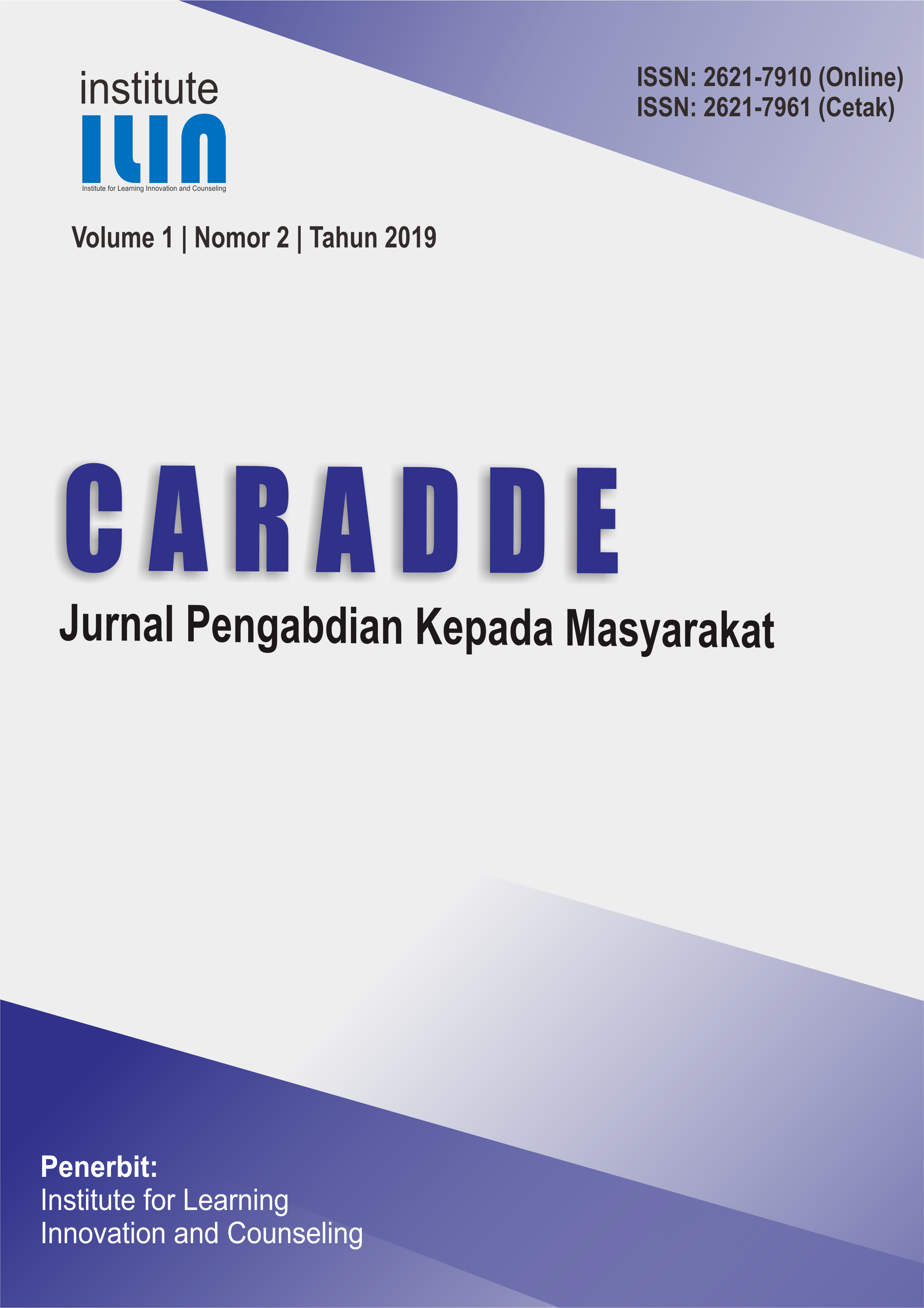 How to Cite
Budiharto, R., & Syahroni, A. (2020). Pendampingan Pemanfaatan Duolingo melalui Smartphone Sebagai Alat Pengajaran dan Pembelajaran Bahasa Inggris Bagi Masyarakat. CARADDE: Jurnal Pengabdian Kepada Masyarakat, 2(2), 339-346. https://doi.org/10.31960/caradde.v2i2.374
Copyright (c) 2020 Raden Agus Budiharto, Abdul Wahab Syahroni
This work is licensed under a Creative Commons Attribution 4.0 International License.
Penulis yang menerbitkan jurnal ini menyetujui persyaratan berikut:
Penulis memiliki hak cipta dan memberikan hak jurnal untuk publikasi pertama dengan karya yang dilisensikan secara bersamaan di bawah Lisensi Creative Commons Attribution CC BY yang memungkinkan orang lain untuk berbagi karya dengan pengakuan kepenulisan karya dan publikasi awal dalam jurnal ini.
Penulis dapat membuat perjanjian kontrak tambahan yang terpisah untuk distribusi non-eksklusif dari versi jurnal yang diterbitkan dari karya tersebut (misalnya, mempostingnya ke repositori institusional atau menerbitkannya dalam sebuah buku), dengan pengakuan atas publikasi awalnya di
jurnal ini.
Penulis diizinkan dan didorong untuk memposting pekerjaan mereka secara online (mis., Dalam repositori institusional atau di situs web mereka) sebelum dan selama proses pengiriman, karena dapat menyebabkan pertukaran yang produktif, serta kutipan yang lebih awal dan lebih besar dari karya yang diterbitkan