Assertive Training Untuk Mengurangi Kecenderungan Pergaulan Bebas
Hasbahuddin Hasbahuddin

STKIP Andi Matappa

Aztri Fithrayani

STKIP Andi Matappa

Muhammad Ilham Bakhtiar

STKIP Andi Matappa
Keywords:
Assertive Training, Pergaulan Bebas
Abstract
Penelitian ini mengkaji tentang penggunaan assertive training, pergaulan bebas siswa sebelum dan sesudah diberikan assertive training, dan pengaruh assertive training untuk mengurangi pergaulan bebas siswa. Pendekatan penelitian yang digunakan adalah kuantitatif dengan jenis eksperiment. Desain penelitian menggunakan pretest –posttest control group design. Populasi penelitian sebanyak 75 siswa dengan mengambil sampel 28 orang siswa. Teknik penarikan sampel adalah simple random sampling. Instrument yang digunakan adalah bahan perlakuan berupa scenario assertive training dan angket pergaulan bebas. Hasil penelitian menunjukkan penerapan teknik   assertive  training yang dilaksanakan selama  delapan kali pertemuan menunjukkan kecenderungan pergaulan bebas pada siswa cenderung menurun dan ada perbedaan yang signifikan antara siswa yang diberikan Assertive Training dengan siswa yang diberikan layanan BK oleh konselor sekolah lainnya untuk mencegah kecenderungan pergaulan bebas. Kesimpulan setelah pelaksanaan teknik assertive training, yaitu kecenderungan pergaulan bebas pada siswa yang diberikan pelatihan assertive cenderung menurun dibandingkan dengan siswa yang diberikan layanan BK oleh konselor sekolah lainnya, artinya semakin diberi Assertive Training  maka kecenderungan pergaulan bebas juga menurun. Dari hasil penelitian maka, disarankan pada  konselor sekolah dapat menggunakan latihan asertif dalam menangani masalah-masalah yang dialami oleh siswa secara terprogram  dan bekerjasama dengan pihak-pihak yang terkait.
References
Andisti, M.A. & Ritandiyono. (2008). Religiusitas Dan Perilaku Seks Bebas Pada Dewasa Awal. Jurnal Psikologi. Vol. 1. No. 2. Juni 2008.
Aryani, F. (2004). Pengembangan Paket Pelatihan Ketearmpilan Asertif Untuk Siswa SLTP. Tesis (tidak diterbitkan). Malang: Universitas Negeri Malang.
Aryani, F., & Bakhtiar, M. I. (2018). Effect of assertive training on cyber bullying behavior for students. Konselor, 7(2), 78–88. https://doi.org/10.24036/020187210283-0-00
Corey, G. (2007). Teori dan Praktek Konseling. Bandung: PT Refika Aditama.
Dariyo, A. (2007). Psikologi Perkembangan. Bandung : PT.Refika Aditama.
Djamarah, S. B. (2011). Psikologi Belajar. Jakarta: PT Rineka Cipta
Hasbahuddin. (2015). Penerapan Pendidikan Karakter Untuk Mencegah Kecenderungan Penyalahgunaan Narkoba SMK Negeri 5 Makassar. Jurnal Psikologi Pendidikan & Konseling. Vol. 1 No. 2 Desember 2015.
Hasbahuddin. (2017). Model Pendidikan Karakter Untuk Mencegah Penyalahgunaan Narkoba Pada Siswa Di Kabupaten Pangkep. Prosiding Seminar Bimbingan dan Konseling Tersedia Online di Vol. 1, No. 1, 2017
Lava, NCE. (2010). Pelatihan Peningkatan Perilaku Asertif sebagai UpayaMencegah Seks Bebas pada remaja. Jurnal Psikologi OnLine
Lioni, A & Pratiwi, T. I. (2013). Penerapan Assertive Training Untuk Mengurangi Perilaku Negatif Berpacaran Pada Siswa. Jurnal BK UNESA. Volume 04 Nomor 01 Tahun 2013, 23-27
Nasri, D & Koentjoro. (2015). Pelatihan Asertivitas Normatif Terhadap Perilaku Seksual Pranikah Pada Wanita. Jurnal Ilmiah Psikologi Terapan. ISSN: 2301-8267 Vol. 03, No.01, Januari 2015
Sugiyono. (2008). Metode Penelitian Pendidikan. Bandung: Alfabeta
Sussanti, D, I. (2010). Keefektifan Assertive Training untuk Mengubah Persepsi Seks Bebas Siswa di SMK Negeri 4 Malang. Jurnal OnLine
Taher, J. (2012). Eco-Tropica. Manado. Jurnal Jendela Ilmu. Volume 1. Nomor 1
Tindall, A. J. dan Gray, D. H. (1987). Peer Power : Becoming An Effective Peer Helper. Book 1. Alih bahasa oleh Abdullah Pandang.
Undang-undang Republik Indonesia Nomor 20 Tentang Sistem Pendidikan Nasional beserta Penjelasannya. Bandung : Citra Umbara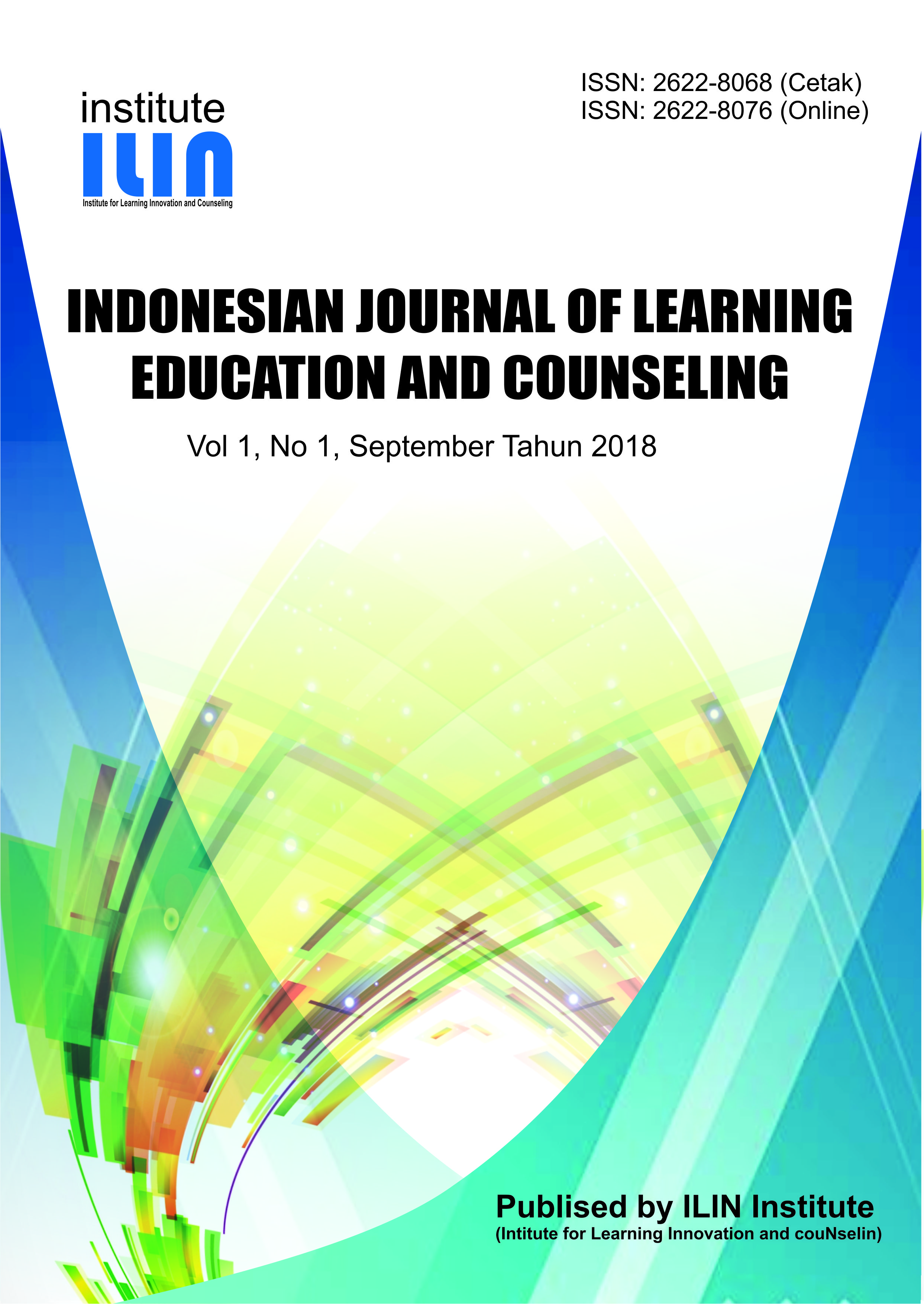 Copyright (c) 2019 hasbahuddin hasbahuddin
This work is licensed under a Creative Commons Attribution-NonCommercial 4.0 International License.
The Journal Will Accept Article from author provided that:
The article has never been published in another place as evidenced by the publication statement sent along with the article.
The article will display license information in the article
Articles sent will be published with open access where the author can read, download, print, search and share like the original link
Copyright
Indonesian Journal of Learning Education and Counseling has chosen to apply the Creative Commons Attribution NonCommercial License 4.0 (CC BY-NC 4.0) to all manuscripts to be published
The author retains the copyright and entitles the first publication journal to the work which is simultaneously licensed under the Creative Commons Attribution-NonCommercial 4.0 International License. (CC BY-NC 4.0) which allows other people to copy and redistribute this material in form or format, change, and make derivatives of this research

Authors and copyright holders give all users the freedom to access throughout the world and do not cancel the right to access, and licenses to copy, use, distribute, transmit and display public works and distribute derivative works, in any digital media for any purpose responsible, subject to the appropriate author, and the right to make a number of printed copies for their personal use.

The author must include the appropriate name, include a link to the license, and state that there have been changes made.
The author can do this in an appropriate manner, but does not indicate that the licensor supports you or your use. The author cannot use articles for commercial purposes.
The full version of the work and all additional material, including copies of permits as stated above, are provided in the appropriate electronic format then stored after the first publication, at least one online repository supported by institutional institutions, scientific organizations, government institutions, or other established organizations which seeks to allow open access, unlimited distribution, interoperability, and long-term archiving