The Role of Rationality and Technological Change in Learning Process
Harisa Mardiana

Universitas Buddhi Dharma

Haris Kaisar Daniels

Indonesia Indicator
Keywords:
Rationality of Knowledge, Technological Change, Rationality of Belief, Learning Process
Abstract
My goal in examining the role of rationality and technological change in the learning process is to investigate knowledge, the use of technology, especially in the classroom and belief from lecturers in following the changes in learning. The problems in Indonesia are that lecturers have difficulty in adopting technology and indeed need improvement, and some lecturers are even weak in technological knowledge, development of knowledge, lecturer's belief that the lecturer will never be able to change which will be complicated education on Indonesian campuses. The method used in this research is a quantitative method and is supported by a semi qualitative method using a Likert scale. Data collection was taken from 129 respondents who as lecturers spread throughout Indonesia from January 2018 to early May 2018; questionnaires were distributed using Google Form via email, Whatsapp, Facebook Messenger. The result of this study is that there is a relationship between rationality and technological change in the learning process. The author found small changes from several lecturers in using technology, even though technology became one of the tools in learning. Changes in the lecturers believe that they are difficult to adopt technology due to old age.
References
Datta, A., Marpaung, L., Meirio, A., Sabri, R., Mackenzie, J., & Young, J. (2016). The Indonesian Knowledge Sector: A Contextual Analysis. Jakarta: Kementerian PPN/ Bappenas.
Gee, J. (2012). Importance of Prior Knowledge to Learning. Normal, Illinois: News Illinois State of University.
Moshman, D. (1990). Rationality as a Goal of Education. Educational Psychology Review 2: 4, 335-364.
Perrotta, C. (2017). Beyond Rational Choice: How Teacher engagement with Technology is Mediated by Culture and Emotions. Education and Information Technologies, 22(3), 789-904.
van Warmerdam, G. (2017, August). Changing Core Beliefs, Emotional Reactions, and Behaviors. Santa Barbara, California, USA.
Waddell, J. (2015, March 27). The Role of Technology in the Educational Process. Retrieved from Green and Write Michigan State University: https://edwp.educ.msu.edu/green-and-write/2015/the-role-of-technology-in-the-educational-process/
Welsch, W. (2000). Rationality and Reason Today. Jena Germany: Friedrich-Schiller-Universität Institut für Philosophie.
Collis, B. (1994). A Reflection on the Relationship between Technology and Teacher Education: synergy or separate entities? Journal of Information Technology for Teacher Education, Routledge, Taylor and Francis Group 3:1, 7-25.
Fullan, M. (1991). The New Meaning of Educational Change. New York: Teachers' College Press.
Gonzalez, W. J. (2005). THE PHILOSOPHICAL APPROACH TO SCIENCE, TECHNOLOGY, AND SOCIETY. In W. J. Gonzalez, SCIENCE, TECHNOLOGY, AND SOCIETY: A PHILOSOPHICAL PERSPECTIVE (pp. 3-51). Coruna, Spain: Netbiblo, S.L.
Jonas, H. (1979). Toward a Philosophy of Technology. New York: Hastings Center Report.
Lanauer, J., & Rowlands, J. (2001). The Importance of Philosophy. Copyright © 2001 by Jeff Landauer and Joseph Rowlands.
Means, B., & Olson, K. (1994, April). The Link Between Technology and Authentic Learning Vol 51 Nol 7. Retrieved from EL: Educational Leadership: http://www.ascd.org/publications/educational-leadership/apr94/vol51/num07/The-Link-Between-Technology-and-Authentic-Learning.aspx
Putra, L. M. (2017, May 13). Why hasn't Indonesia progressed in Science and Technology? (Mengapa Indonesia tidak Maju Dalam Sains dan Teknologi?) . Jakarta, DKI Jakarta, Indonesia.
Queraltó, R. (2005). PHILOSOPHICAL PATTERNS OF RATIONALITY AND TECHNOLOGICAL CHANGE. In W. J. Gonzalez, SCIENCE, TECHNOLOGY, AND SOCIETY: A PHILOSOPHICAL PERSPECTIVE (pp. 179-206). Caruna, Spain: Netbiblo, S.L.
Rogers, E. M. (2003). Diffusion of Innovation 5th edition. London: Simon and Schuster.
Selwyn, N. (2010). Looking Beyond Learning: Notes towards the Critical Study of Educational Technology. Journal of Computer Assisted Learning 26 (1), 65-73).
Straub, D., Keil, M., & Brenner, W. (1997). Testing the Technology Acceptance Model across Cultures: A Three-Country Study. Information & Management 33 (1), 1-11.
Wang, L., Wang, X., Liang, N., & Xiao, M. (2010 ). How to Make Highly Rational Use of Modern Educational Technologies. Intelligent Information Management Vol. 2, 647-651.
Wu, K. (2016). The Interaction and Convergence of the Philosophy and Science of Information. Philosophies Vol. 1, 228-244.
Zhao, Y., & Frank, K. A. (2003). Factors affecting technology use in schools: an ecological perspective. American Educational Research Journal 40 (4), 807-840.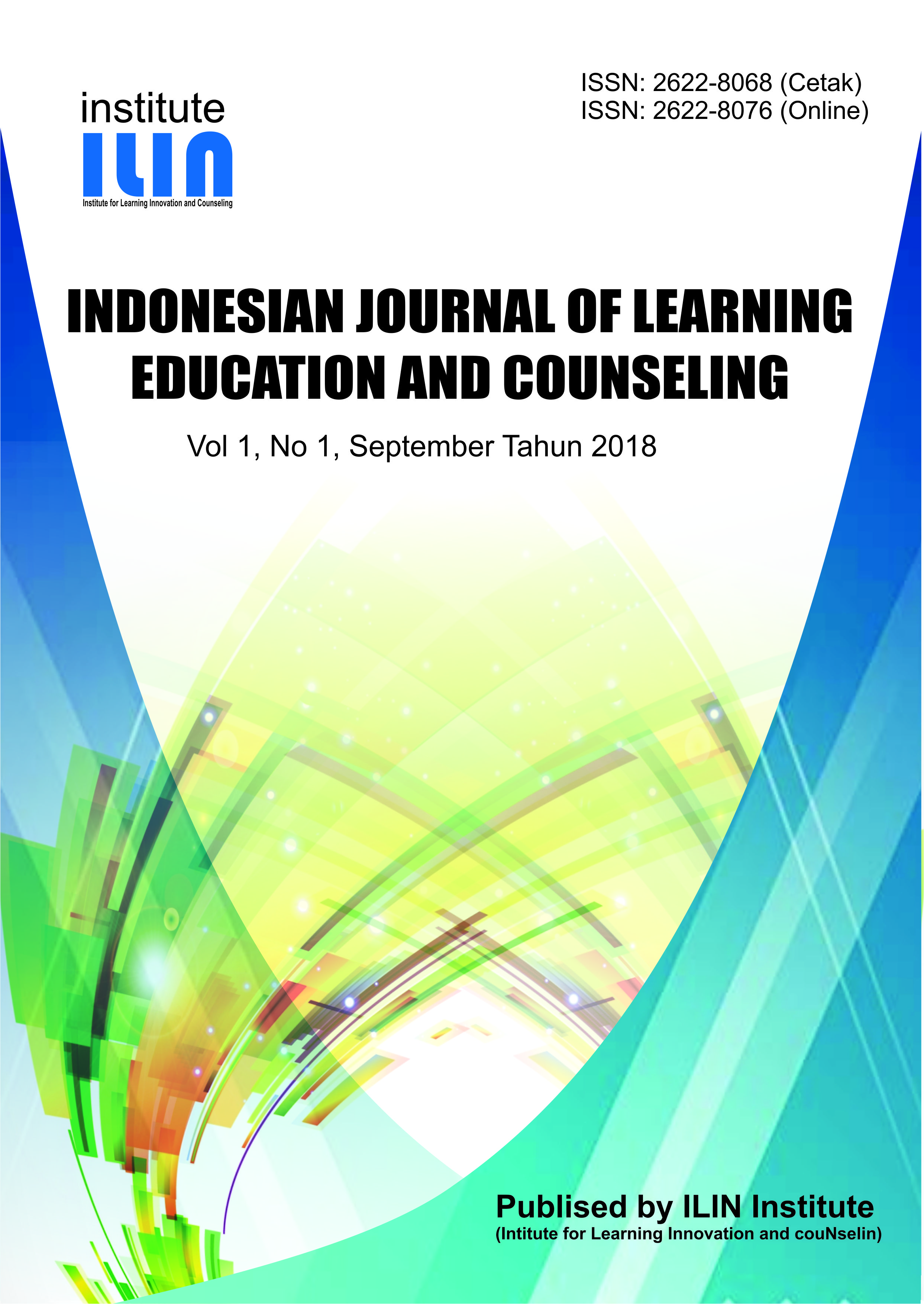 Copyright (c) 2019 Harisa Mardiana, Haris Kaisar Daniels
This work is licensed under a Creative Commons Attribution-NonCommercial 4.0 International License.
The Journal Will Accept Article from author provided that:
The article has never been published in another place as evidenced by the publication statement sent along with the article.
The article will display license information in the article
Articles sent will be published with open access where the author can read, download, print, search and share like the original link
Copyright
Indonesian Journal of Learning Education and Counseling has chosen to apply the Creative Commons Attribution NonCommercial License 4.0 (CC BY-NC 4.0) to all manuscripts to be published
The author retains the copyright and entitles the first publication journal to the work which is simultaneously licensed under the Creative Commons Attribution-NonCommercial 4.0 International License. (CC BY-NC 4.0) which allows other people to copy and redistribute this material in form or format, change, and make derivatives of this research

Authors and copyright holders give all users the freedom to access throughout the world and do not cancel the right to access, and licenses to copy, use, distribute, transmit and display public works and distribute derivative works, in any digital media for any purpose responsible, subject to the appropriate author, and the right to make a number of printed copies for their personal use.

The author must include the appropriate name, include a link to the license, and state that there have been changes made.
The author can do this in an appropriate manner, but does not indicate that the licensor supports you or your use. The author cannot use articles for commercial purposes.
The full version of the work and all additional material, including copies of permits as stated above, are provided in the appropriate electronic format then stored after the first publication, at least one online repository supported by institutional institutions, scientific organizations, government institutions, or other established organizations which seeks to allow open access, unlimited distribution, interoperability, and long-term archiving